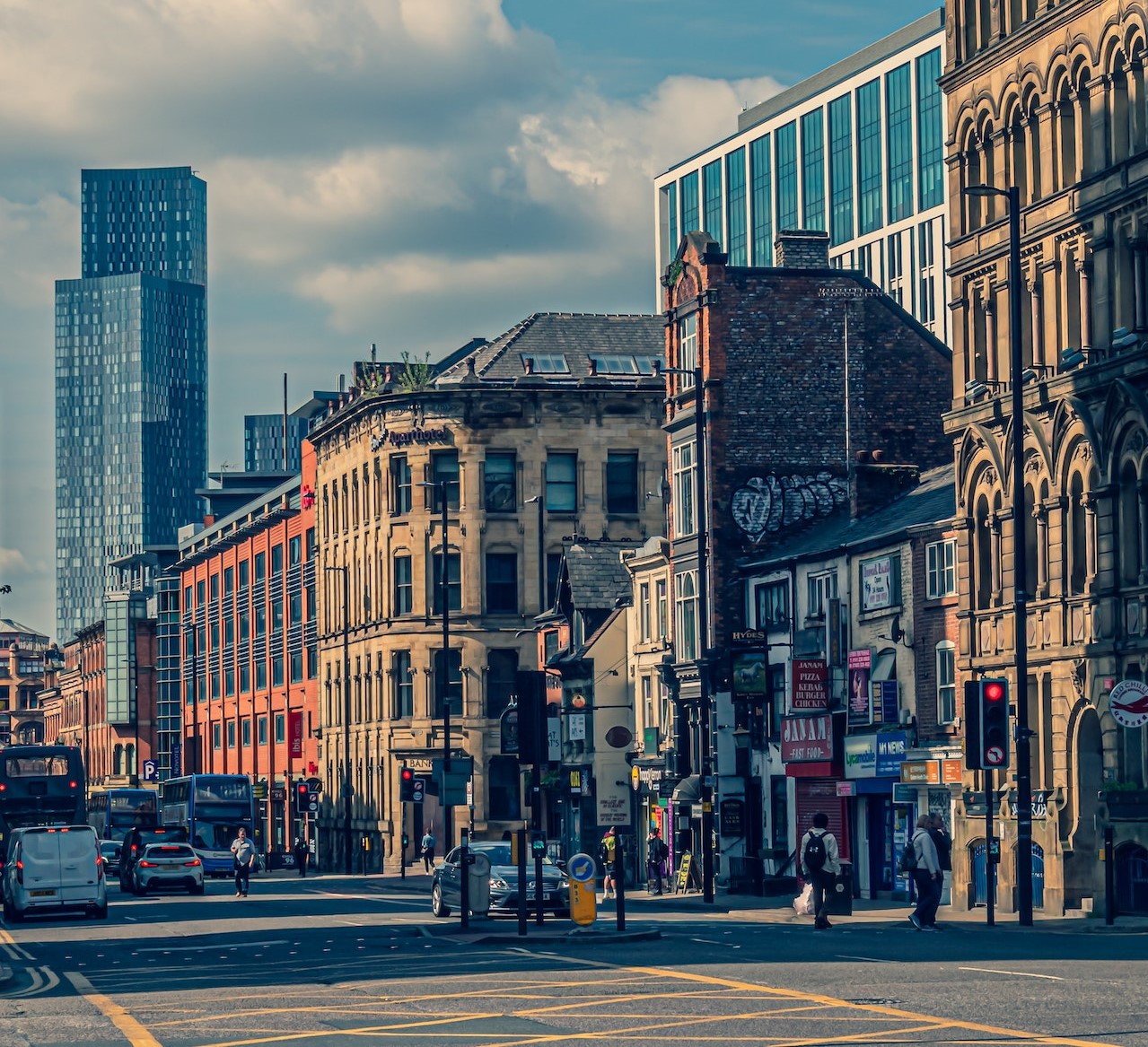 Thinking about moving to Manchester? Here's some advice
While it comes as no surprise to its residents, there are lots of reasons why the northern stronghold of Manchester is quickly becoming the place to be.
The population of the city is expected to increase by 30,000 in the next six years, with people competing to claim their own patch of this vibrant and cosmopolitan city.
"Famous for its music, Manchester has birthed many famous bands, such as The Smiths, Buzzcocks, Happy Mondays, Oasis, and The Stone Roses."
If you're considering becoming one of this growing number, and are looking for some facts and figures to help sway your decision, take our advice - read our comprehensive guide of things to consider when moving to Manchester.
A quick overview of Manchester
Historically, Manchester was the city at the helm of the Industrial Revolution, and was known mainly for its textiles - specifically, cotton. Areas of Greater Manchester are still referred to as 'textile towns' to this day. The canals that weave through Manchester, now used for recreation and leisure, were once key to transporting goods and materials in and out of the city centre.
Famous for its music, Manchester has birthed many famous bands, such as The Smiths, Buzzcocks, Happy Mondays, Oasis, and The Stone Roses. The city is home to a wide variety of music venues, from the 3,500-seater O2 Apollo to the Eagle Inn, which can fit a crowd of 80 for its live bands and open mic nights.

If you prefer your entertainment to be more on the athletic side then you're also in luck - Manchester is a sporting hub, especially as it's home to two of the world's most famous football clubs. It also has one of the largest swimming facilities in the UK, once used as part of the Commonwealth Games, and the UK's second-largest stadium - Old Trafford.
Things to consider before you move to Manchester
The idea of living somewhere can sometimes be vastly different from the reality of actually being there. Before you move, you need to think about what things are the most important to you in a location.
Does it have to be a walkable community? How close do you want to be to green spaces? What's the local takeaway offering like? Is being close to a train station a must? These are just a few of the things you should think about before you look to move.
Whether you're worried about precipitation or prices, we can prepare you. Let's take a look at a quick breakdown of some of the key things to know about Manchester if you're considering making the move.
The weather
Despite being touted as a rainy city, rainfall in Manchester is actually lower than the national average - which is to say, it's still pretty wet. Manchester is also close to both the Peak District and the Pennines, one of the areas in England most akin to a tundra-style landscape.
However don't let the neighbouring wilderness worry you - cities are on average far warmer than rural areas - sometimes by as much as 15°C. Living in Manchester means you have easy access to lots of areas of natural beauty, while still benefiting from the comparatively tame urban weather - truly the best of both worlds.
Staying safe in Manchester
Staying safe in major cities is always a concern - any time there is a high population density in a concentrated area the rates of crime increase. According to Numbeo's Crime Index, Manchester is currently safer than Bradford, Coventry and Birmingham, and appears to be getting better year on year. Rates of theft such as pickpocketing are reported to be dropping, as are cases of robbery or possession of dangerous weapons.
But, as with any area, there will always be places that are considered safer than others. When moving to a new location you might want to check crime by postcode, or reach out to people who live in the area to ask their opinion. Safety is a subjective feeling, and you need to decide what attributes will make a place feel safe for you.
For example, while some people may find the idea of living in a busy city daunting, others may prefer densely populated areas as they may feel vulnerable somewhere where passersby are few and far between.
The cost of living in Manchester
As mentioned in our Manchester cost of living article, in spring 2022 the city was named as one of the top 10 cheapest in the UK to live in. It also regularly holds the title for The Economist's most liveable UK city - in fact, last year, not only was it the UK's most liveable, it was 28th in the world.
While cities can often be seen as expensive places to live, it's important to remember that Manchester is a student city, and that is reflected in the cost of living. Operating costs for businesses are lower here than in other major cities, as are rent and house prices. For example, the average house price in Manchester is less than half of that in London. People often say that by living in Manchester you get to enjoy the bustle of the city and its plentiful amenities, without having to pay London prices.
Transport around the city
While Manchester is very pedestrian-friendly, you can't walk everywhere all of the time, no matter how dedicated you are to reaching your daily steps. Luckily Manchester has some of the best public transport in the country, able to provide you with trams, buses, trains, planes, and cycle schemes.
The Metrolink tram network is particularly popular and for good reason. It's easy to make the rookie error of standing on the tramlines by mistake, as these eco-friendly vehicles move quickly and quietly, and can take you by surprise. They're one of the main reasons why air pollution in Manchester is lower than that of other major cities.
Public transport in Manchester is set to improve even further with the plan for all Bee Buses in Greater Manchester to be under public control by 2025.
The people (and students)
Manchester is a shining example of the benefits of multiculturalism with over 200 languages believed to be spoken in the city, and over half of its residents estimated to be multilingual. So when you're referring to 'the people' of Manchester, you're looking at a fantastically broad cross-section of the UK. When asked about reasons why they love Manchester, one of the most popular answers from locals was simply: its people.
If you're considering moving to Manchester it's good to know that the average age of a resident is 31 - this is likely swayed by the large student population, many of which choose to remain in the city because of its affordability and job opportunities.
In fact, the level of employment in Manchester has risen by 2% in the past 10 years, even as it's fallen in surrounding areas. If you're a young person looking to move to Manchester for work, chances are you'll be surrounded by like-minded people and have no problem finding your tribe here.
When looking at qualities such as the number of registered charities, volunteering opportunities and recycling schemes to gauge overall 'thoughtfulness', Manchester ranks quite highly. Community gardening schemes are particularly popular in Manchester, putting it in the top 10 in this category. Not only are charitable opportunities great for giving back to the community, they're also the perfect place to meet people when settling in a new area.
Things to do in Manchester
As we touched on briefly in the introduction, Manchester is a haven for sports fans and music lovers, and that's only the tip of the iceberg in terms of entertainment.
Manchester ranked 3rd in the UK for fans of creative pursuits, with museums, art galleries and theatre spaces galore. The Lowry is the place to go to watch people tread the boards; and they also house the many touring productions that pass through Manchester. The Manchester Craft and Design centre hosts a variety of workshops sure to keep you busy and get your creative juices flowing.
If you want to go 'out out', Manchester's Gay Village is one of the liveliest spots in the city; the bars and clubs along Canal Street are bright and welcoming, bursting with life and colour. The bohemian Northern Quarter and vibrant Spinningfields are also good options - you'll soon realise that Manchester's various 'quarters' each have their own unique vibe, meaning there's definitely something for everyone.
As mentioned above, Manchester is also the starting point for lots of adventures that take you out into the surrounding countryside. Lots of Manchester-based companies lead caving and hiking expeditions, so if you like the idea of calling the city home but long for the great outdoors, you've got plenty of outlets to choose from.
Looking for more inspiration? We've got plenty of ideas of fun things to do in Manchester.
Places to eat & drink in Manchester
We've put together a tasting platter of some of the best places in Manchester to tickle your taste buds.
Curry Mile
We couldn't talk about Manchester and not mention the incredible Curry Mile - an area of Rusholme that's home to over 70 Asian restaurants, the highest concentration anywhere in the UK. South Asian restaurants first established themselves here in the 50s, and many of the restaurants operating there have been doing so for decades - so you can imagine how well they've perfected their craft. It would be a hard task to reduce the Curry Mile to one restaurant, so we're listing the whole area and encouraging you to explore for yourself.
OSMA
If you're after creative and carefully-curated small plates, OSMA might be just what you're looking for. However, more than just a one trick pony, they're also said to serve the best roast potatoes in Manchester with their Sunday roast.
mana
If you're looking to go all out and want an avant-garde and immersive eating experience, try mana. Highly inspired by the world-famous 'gastronomic mecca', Noma, this restaurant is weird and wonderful and not for the faint of heart.
Science & Industry
Experimentation is popular in Manchester's foodie scene, with speakeasy Science & Industry having an in-house laboratory to help them push the boundaries of cocktail-making. Expect full table service and unique tipples galore.
These are just a handful of examples of the wide variety of dining experiences to be found - however, if you're looking for quick bites that won't break the bank we have that covered too. Check out our list of the top affordable eats to be found in and around Manchester.
Rent in Manchester with UNCLE
Hopefully we've given you some idea of what lies in store if you're planning on moving to Manchester. We're also pretty sure we can help with finding you a place to hang your hat.
No matter how wonderful the city you live in is, if you aren't happy with the roof over your head, are you truly 'home'? We think our Manchester location has everything you need to stake your claim in this wonderful city. We value security and comfort, and an on-hand resident management team that will make you feel at ease. All of these things and more can be found in Orient House, just a 5-minute walk from Manchester Piccadilly.
If you're looking for a beautifully-furnished apartment to rent in Manchester, complete with a residents-only gym, yoga studio and art room, we have good news for you. Get in touch with us today to find out more and book a viewing.