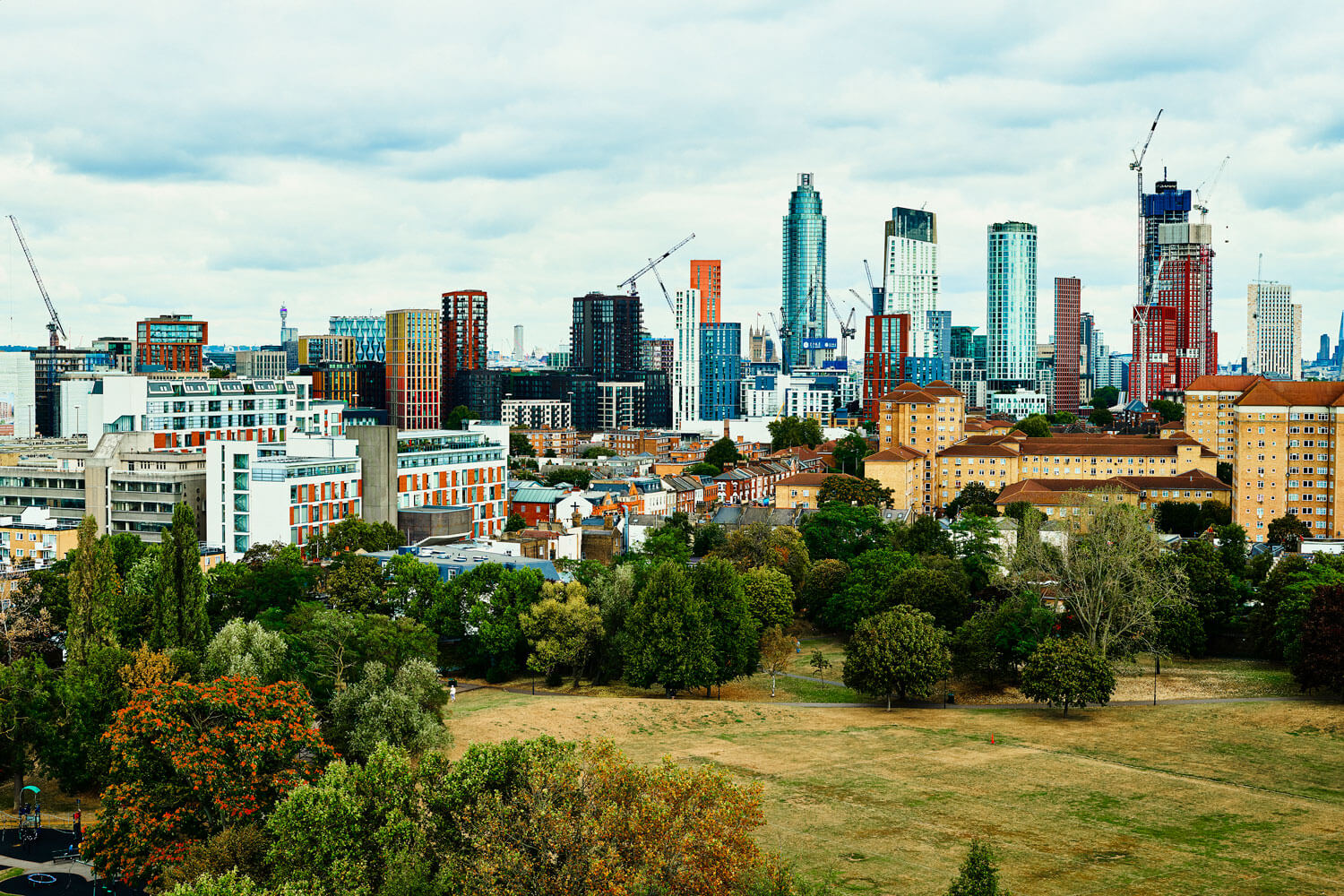 The not-so-concrete jungle: Explore the best parks in London
London, while often depicted as a maze of towers, bridges, and dazzling architecture both old and new, is actually pretty green. In fact, parks make up 18% of London's landscape - 3,000 parks, to be exact. This is great news for London residents (or those hoping to become London residents) who need green space close by.
Being able to spend time in nature in places like parks is essential for good health, both physical and mental. Not only do parks provide a place to boost your mood and your fitness, the greenery they house helps to keep London cool, and purify the air. With this in mind, you might want to consider the nearby parks in any area you're looking to move to.
This is why we've put together a list of the best parks in London - whether you're a city dweller or just passing through, we've made it easy for you to find a bench to park yourself on, or a grassy hill from which to take in the view.
Hampstead Heath
Home to the iconic Parliament Hill and the popular bathing ponds, Hampstead Heath lies mostly in the borough of Camden, and is one of London's most famous and well-loved parks. Legend has it that the key conspirators behind the historic Gunpowder Plot, Guy Fawkes and Robert Catesby, planned to watch the havoc unfold from the vantage point of Hampstead Heath.
The heath has been a protected area since 1829 - and long before that it was where game was preserved for Henry VIII to hunt. It stretches over 800 acres, and is made up of pretty woodland and spacious meadows. It's home to Kenwood House, a 17th century stately home, the grounds surrounding which were a popular place for duels to take place.
Nowadays, you can expect ball games, picnics, yoga, concerts, protests and more to take place here - but rest assured there's enough space for everyone, and plenty of quiet spots to be found to crack open a book or kick back with some friends.
Regent's Park
Regent's Park, found in north-west London, is one of eight Royal Parks, protected by The Royal Parks Charity. Named for King George IV, this park is made up of just under 400 acres of colourful gardens, sporting grounds, play areas, and biodiverse wetlands.
If you're looking for beautiful flowers, Queen Mary's Gardens can provide them in spades. There are close to 100 different varieties of rose present in this area of the park, as well as begonias, delphiniums, and artfully pruned shrubberies. There is also a delightful Japanese Garden nearby, set on an island in the middle of a small lake. If you're looking for livelier subjects to lay your eyes on, Regent's Park is also home to the London Zoo - the world's oldest scientific zoo - and Regent's Park Open Air Theatre.
While sitting on the opposite side of Prince Albert Road from the rest of the park, Primrose Hill is often included as one of its attractions. It was purchased from Eton College in 1841, and is a great location from which to look out over the city, and the rest of Regent's Park.
Montrose Park
Set alongside the Silk Stream Brook, which gives its name to the neighbouring Silk Stream Park, Montrose Park and Playing Fields are a welcome patch of green in between Colindale and Burnt Oak. Located in the borough of Barnet, the area has recently received £5m of investment to go towards its landscaping, cafe, and play areas. The Hub, located in the centre of the park, is also available to book for events.
Set alongside the Silk Stream Brook, which gives its name to the neighbouring Silk Stream Park, Montrose Park and Playing Fields are a welcome patch of green in between Colindale and Burnt Oak.
If you're sporty and active, then Montrose Park will likely appeal to you. There are free-to-use tennis courts, a skatepark, an outdoor gym, and even a parkour area. For the green-thumbed, there are allotments to be found tucked at the quiet end of the park. Applying for an allotment, especially if you're someone who lives in an apartment without access to gardens, is a great way to spend time outdoors - for socialising as much as sowing seeds.
Hyde Park
Another one of The Royal Parks, Hyde Park is a Grade I-listed park found in Westminster in Greater London. Hyde Park plays host to many massive seasonal events, such as the annual institution that is Winter Wonderland, and the summer music extravaganza BST Hyde Park. This park was originally created to be a private hunting ground for Henry VIII, and horseback riding still occurs here today - though not with a royal entourage in tow.
Speaker's Corner is a famous facet of the park; an area declared as a place for public speaking in 1872, and frequented by the likes of Karl Marx and George Orwell. People have been airing their views and rallying to causes here for hundreds of years, and it is still the starting point for many a protest and march.
Swimmers head to Hyde Park to enjoy the Serpentine Lido, home to the oldest swimming club in the UK. Of all the London parks with lakes, Hyde Park's Serpentine is the largest.
Southall Park
A park with a more recent history than many on this list - in the 1800s this west London land once belonged to a private house, which then became an asylum, which eventually burnt to the ground. Not the happiest of legacies - but you wouldn't be able to tell from the bandstand, bowling green and boating lake that now exist here.
A nature conservation area was added to the park in 2003, and since then several notable species of British flora and fauna have been documented here. The woodland walk is home to many British bird species, whose song is the perfect backing music to a sunny afternoon stroll.
The wide grassy spaces are perfect for football and cricket, and the tree-lined paths are a pleasant and shady place to stroll in the height of summer. While this one park may have everything you need, it's only one of dozens of parks in the area, and a fantastic example of the green spaces available to enjoy in Southall.
Greenwich Park
A former hunting park, and another one of The Royal Parks, Greenwich Park can be found in southeast London. It boasts great views, stunning gardens and some of the most interesting attractions to be found in the city.
The Royal Observatory, the home of Greenwich Mean Time whose courtyard displays the Prime Meridian, is located in Greenwich Park. The Planetarium here will take you to the stars and back - or, you can gaze at them from afar via one of the largest telescopes in the UK. The views from the observatory are second to none - and if you look down the hill you will find the National Maritime Museum, perfect for those looking for any and all information on the country's seafaring history. 
As well as places to appreciate the sea and sky, the park is home to a historic orchard that has been growing a variety of fruit since the 1500s.
Clapham Common
One of London's oldest public spaces, Clapham Common serves as a welcome green space for residents of Clapham, Balham, and Stockwell. Mounds from two World War II storage bunkers are still visible in the park - a reminder of the many ways in which parks have served a purpose throughout history. Another reminder is a Victorian bandstand, first installed in 1890. 
Flat and open, Clapham Common is a runner's dream.
Flat and open, Clapham Common is a runner's dream. There are also pitches for most popular sports here, including rugby, cricket, football softball, and three ponds to stroll around. These ponds are popular spots for anglers, and model boat enthusiasts, although hopefully not at the same time.
The Friends of Clapham Common environmental group keep the area intact and thriving, monitoring everything from the biodiversity of the area to the upkeep of buildings and attractions.
Kennington Park
A Victorian public park found in the London Borough of Lambeth, Kennington Park was previously known as Kennington Common. Historically, 'commons' were green areas used for 'common' reasons - such as meetings, and grazing livestock - and Kennington Park was no different. After Chartists planned to march on Parliament from the Common in 1848, in 1852 it was remodelled as a public park, with gardens and fences. However this hasn't stopped the area from being a place for marches and protests to meet.
Kennington Park has one of the oldest skate parks in the UK - Kennington Park Bowl has been around since the 70s, though for much of its existence (until recent refurbishment) it has been in a condition even the bravest would class as unskateable. Either way, it's a monument of the historical UK skate scene, and an important feature of the park.
The park is also home to Bee Urban, London's beekeeping centre, where you can buy local honey and craft beers to support the upkeep of their ecologically-focused practices. You can find Kennington Park by leaving the Oval underground station and heading towards Elephant and Castle.
Kensington Gardens
A 265 acre Royal Park, Kensington Gardens has a rich history and an abundance of beauty to offer its visitors. From the Serpentine Galleries to Kensington Palace, there is plenty of art and architecture to enjoy, as well as many points of historical significance - such as the Albert Memorial, and the Diana Princess of Wales Memorial Walk (which will take you through Hyde Park, among others).
Those familiar with the park's history in popular culture will be able to connect the dots between the pirate ship in the Diana Memorial Playground, and the statue of a boy found to the west of The Long Water lake. The boy is Peter Pan, and the statue was commissioned by the character's creator JM Barrie and added to the park in 1912, as the park is a significant location in his novels and is where Peter Pan first encounters fairies. This magical atmosphere is kept up throughout the park's design and landscaping, and is part of what makes it so delightful to explore.
Battersea Park
With trees that have provided shade to visitors for more than 150 years, and a range of planted gardens and beautiful walks, Battersea Park is a welcome patch of green on the south bank of the River Thames. A self-described 'inner-city oasis', it has been enjoyed by local residents as a public park since 1858. As seems to be the case with most grassy spaces in London it was once a popular duelling ground, and was also the site of the first FA-regulated football game in 1864.
Complete with a children's zoo and a Go Ape treetop adventure course, there is plenty for young families (or adults who consider themselves big kids) to get stuck into in this park. Overlooked by Battersea Power Station, which has recently opened its doors as a retail park, and home to the London Peace Pagoda, there are more than enough things to see and do to warrant spending a day exploring this park.
St James' Park
Arguably the most obviously royal of the eight Royal Parks, in St James' Park you will find The Mall, the iconic processional route leading up to Buckingham Palace. Horse Guards Parade ground is also here, and is the place where the annual Trooping the Colour military parade is held.
There are many monuments and statues to be found while strolling through the park, which is also connected to both Hyde Park and Kensington Gardens via The Diana Princess of Wales Memorial Walk. It has also been used as a shooting location in a variety of films - including the live action 101 Dalmatians, as the scene of the main characters' (we're all thinking of the dogs, right, not the owners?) meet cute.
Unusually, the park has been home to a population of pelicans since the 1600s, when the original birds were a gift from the Russian Ambassador. They can usually be spotted swimming and fishing on the lake.
Crystal Palace Park
A southeast London Grade-II listed park, Crystal Palace Park has some long-standing residents that set it apart from any of the other parks in London - dinosaurs. No, really. The Crystal Palace Dinosaurs have watched over the park since 1854, and were the first dinosaur sculptures ever to be documented. They were even visited by Queen Victoria and Prince Albert, and are an important example of the past's understanding and research into extinct species.
As well as these sculptures, the park is home to an impressive hedge maze, a 1100 square metre skatepark and the National Sports Centre. The centre houses a gym, an indoor running track, three swimming pools, and soft play for toddlers. This park offers easily-accessible and low-cost facilities to locals, and is an important feature of the Bromley community.
The park is currently undergoing a period of regeneration, with a cafe and community space added in recent years.
Living at UNCLE in London
Our London parks list is made up of the parks that are, in our opinion, the cream of the crop of London's green spaces. If you lived here, and could spend your weekends, evenings and bank holidays enjoying these parks, maybe you'd develop a list of your own, and we could compare. Food for thought.
We have six locations across London, and we've put lots of thought into making them the place you've dreamed of renting. See our great properties in London and get in touch to book a viewing today.