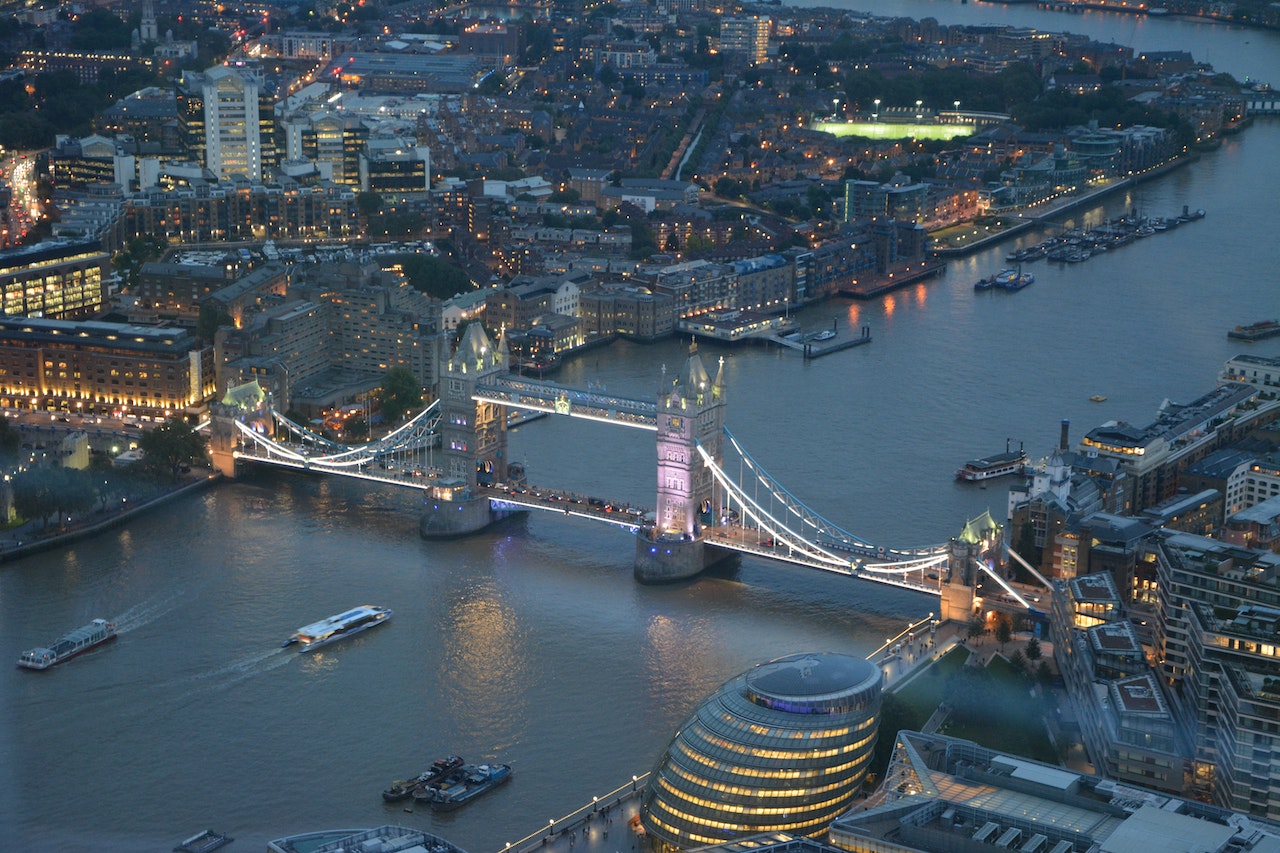 Is Living In London Worth It?
If city life appeals to you and you're looking for somewhere to live in the south of England, you've probably spent your fair share of time weighing up the country's capital.
London is one of the most iconic cities in the world, full of historic landmarks, incredible restaurants and unique opportunities. But where there are pros there are also cons, and it's true London may not be for everyone. Here's what we think.
What do you need to consider when living in London?
Think about your reasons for wanting to live in London. If you're wanting to move to a city, you're probably looking for walkable amenities, excellent transport links and an abundance of people - whether this be for socialising or work opportunities. You can guarantee that these things are high on the priority list for most people living in London, and easily found if you know where to look.
Living in a city is definitely not for everyone. The lifestyle is fast-paced, there are people everywhere you look, and there will be more pollution (noise, air, litter - you name it) than you would find in the countryside. But as devout Londoners will tell you, there is no place like it, and these factors are often easily overlooked in favour of London's more magnetic qualities.
The average age of a London resident is 35.8, lower than anywhere else in the country, and roughly a third of London residents were born abroad. This makes London an old city with a young, cosmopolitan population. It's not uncommon to see young people moving to London for work, adventure and experience before relocating as they age out of this demographic and seek a quieter lifestyle. If you're looking to add to the number of newly minted Londoners this year, we've compiled a breakdown of the pros and cons of living in London, so you can decide for yourself if it's worth it.
The pros of living in London
There are plenty of pros to living in the capital, and unrivalled amenities that set it well apart from the rest of the country - and we don't just mean the 3,500 pubs. London's current population is at the highest it has ever been - so just what is keeping all of those people in the city?
"As devout Londoners will tell you, there is no place like it, and these factors are often easily overlooked in favour of London's more magnetic qualities."
Great range of entertainment
Anything you can imagine can be found in London, and putting yourself in closer proximity to it makes it all the more accessible. What would once have been an expensive weekend trip to the city could become your average night out, with the comfort of knowing that you're a short tube journey away from your front door.
If you're a fan of the theatre, the West End can become your regular haunt, with cheap, last-minute tickets often available on the day. If you like football you're in luck, as there are 22 stadiums to be found in and around London. If music is your life, London is home to hundreds of venues ranging from The O2 with its capacity of 20,000, to the intimate and iconic Moth Club.
Contrary to popular belief, not all of the entertainment to be found in London involves spending money. There are plenty of events, activities, galleries and classes that charge nothing for admission, and a variety of interesting markets that can be a treat for the eyes without being a strain on your wallet.
Good public transport
There's much joy to be found in walking through London and exploring the nooks and crannies that lie off the beaten track - but sometimes, you're in a hurry. Thankfully London's public transport is varied and versatile, with black cabs, red buses, and the Underground having become emblematic of London itself.
As well as public transport to get you around the city (including the river bus and Santander bike-sharing scheme), there are also plenty of options for getting you out of it. London has six airports you can reach by train, and national rail links that can connect you with anywhere else in the country with ease.
Plentiful job opportunities
London is a global financial hub, and cultural and creative hotspot, and has a higher minimum wage than anywhere else in the country. In a time when remote working is becoming more and more popular it's not always necessary to live a commutable distance from your place of work, but being nearby can often give you an advantage and open you up to more opportunities.
The sheer number of opportunities in London can seem overwhelming, but to an enterprising individual with enough drive it can be a place where dreams are realised and fortunes made. Maybe that's why 2021 saw London become home to a record number of tech startups (more than 18,000), and why London continues to be 'home to one of the youngest, most highly skilled and international workforces across the country.'
The cons of living in London
Mention a desire to live in London to certain members of the population, and you'll find them tripping over each other to tell you why it's a bad idea. Unsurprisingly, these people tend not to be London residents themselves. Even so, it is true that there are negatives to consider about the capital.
High cost of living
An unavoidable aspect of living in any city - it's bound to be more expensive than living out in the sticks. While you may save money on petrol by forgoing a car, Londoners do spend the most on public transport compared to the rest of the country. But even that's not enough to stop people from looking to move to the city, with an average of 30 people competing for each available property.
However, it may surprise you to know that London comes 8th when ranking the most expensive places to live in the UK, having actually fallen down the list in the past few years. This is partly down to its size - yes, a penthouse in central London will set you back a pretty penny, and the average house price in Kensington is in the millions - but this isn't universal across the city.
London is busy
There is comfort to be found being just another body in a city of millions - but not when one of those other bodies is walking in front of you. Slowly. There are people everywhere you look in London, at any time of day. Whether this means you struggle for a taxi, can't grab a seat at the bar, or end up face first in a stranger's armpit on the tube, it can be an unpleasant aspect of city life.
26.7 million tourists are expected to have visited London in 2022; they're an inescapable part of London, and a valuable source of income for many. If you can skirt around the landmarks and tourist traps then you shouldn't be too bothered by them, though in London there is historical significance to be found on every corner. People have devoted a lot of time and energy to avoiding crowds, but sometimes it's easiest to just go with the flow. On the other hand, if you're a people-watcher, London is guaranteed to give you an endless source of entertainment.
Are you a Londoner in the making?
As with every pros-and-cons list, it comes down to whether or not you think the possibilities are more enticing than the potential pitfalls. Your unique circumstances will ultimately decide if living in London is worth it, but you'll never know for sure unless you take the leap.
The truth is that there are lots of good things about living in London that you might not know about until you're here. London is one of the greenest cities in the world, with 3,000 parks and greenspaces to visit, and more on the way. It actually has enough trees to fall within the UN definition of a forest, making it more than just a concrete jungle.
In terms of crime, it is safer than Birmingham or Coventry - and much safer than Bradford, which topped Numbeo's European Crime Index. A recent study by BCG even found London to be the top choice out of 45 international cities to live in thanks to its quality of life.
London has always been divisive, with many people thinking of it as a place apart from the rest of the country. But this uniqueness is also its strength, and what makes it so appealing to the millions of people who live here.
With all of this in mind, the biggest struggle of moving to London is probably finding a place to live that suits all of your needs, because there are some things you shouldn't have to compromise on. Hey! That's where we come in.
Living in London with UNCLE
We're doing our best to make life easier for renters. There's no need for rogue landlords and less-than-ideal living conditions to be an unavoidable part of living in London. We think repairs should be addressed quickly, your building should feel safe and secure, and our renters deserve extra amenities just for them, like studios and gyms.
We have six locations in the capital, and have tried to pick places to live that we think are some of the best in London. Our apartments are beautifully designed and available both furnished and unfurnished. Whether you're looking in Stockwell or Southall, if you like the sound of friendly and helpful residential managers that aren't impossible to contact, an UNCLE rental might just be for you.
Living in our newest location, Colindale, would put you a 22-minute tube ride away from King's Cross, with Colindale station a minute's walk from your door. You would have access to a residents-only gym equipped with Peloton bikes, as well as a cosy co-working space. If you think renting with UNCLE sounds perfect for you, take a look at our apartments to rent in Colindale.